Look What's New!
 Do you have your child keep a journal?
 It can be a great way to encourage writing and spelling. Now you can give your child their own personalized journal. And it has the adorable girl from "Your Own Little Silly McGilly" right on the front. Get yours TODAY.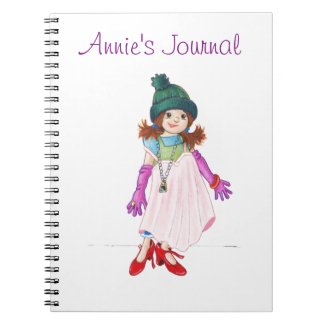 Silly McGilly Girls Journal – Personalize it!
by
Linorama
Make journal
covers at Zazzle
Robin has been working to bring her children's books to life with the help of her family and friends for several years. Now you can own her books today!
Be sure to sign up for the Crazy Good Readers email so you know when her next book, Flowers in My Vase, A Mr. Plodder and Flora Adventure hits stores across the country.
 Bixby Bunny Hears a Sound
Written By Robin Liner    Illustrated By Ethan Liner
Follow Bixby Bunny as he visits friends around the barnyard and ends up with a special surprise.
---
Your Own Little Silly McGilly
Written By Robin Liner     Illustrated By Madalyn Rogers
How does a creative active little girl become her own little Silly McGilly? She paints and dances, flips and prances her way through a wonderful day with help from her mom.
Be sure to look through all of the categories in our
Crazy Good Readers
Amazon Store
below for great tools, teacher resources, decode-able readers, activity books and more!
Sign up for our
FREE NEWSLETTER

 from our sister site At Home With Dyslexia at the link below.